As I said in my previous post, each room identity morphed into something a little different. For the Great Lakes bedroom, it changed into things we do on the lake. Boating, fishing, swimming, etc. So this bedroom has a coastal style which is an obvious choice in a lake house! I didn't include anything that relates to ocean coastal. Such as conch shells, palm trees or coral. Which is a common midwestern mistake when decorating "beachy".
In this bedroom we used a combination of purchased art and objects.  I always like to include a mirror for guests preferably by/above a dresser to use when getting ready.  I selected a white round mirror with a rope inset in the middle, and hangs from a rope as well.  We placed a  large piece of art with colorful oars on the largest wall, that coordinates with the owner's rug. On the left side of the door there is an 8×10 print of a blueprint of a fishing reel. 
This brought more color to the other end of the room.  But check out the wall of antique fishing reels behind the door!  I selected these on Ebay, and the owners purchased and hung them. They did a great job!  I would like to have seen them on a more prominent wall, but for guest safety this was the best spot.  They can be seen when the door is shut, and there's no chance of accidentally running into them. They also found some wooden oars to hang above the headboard.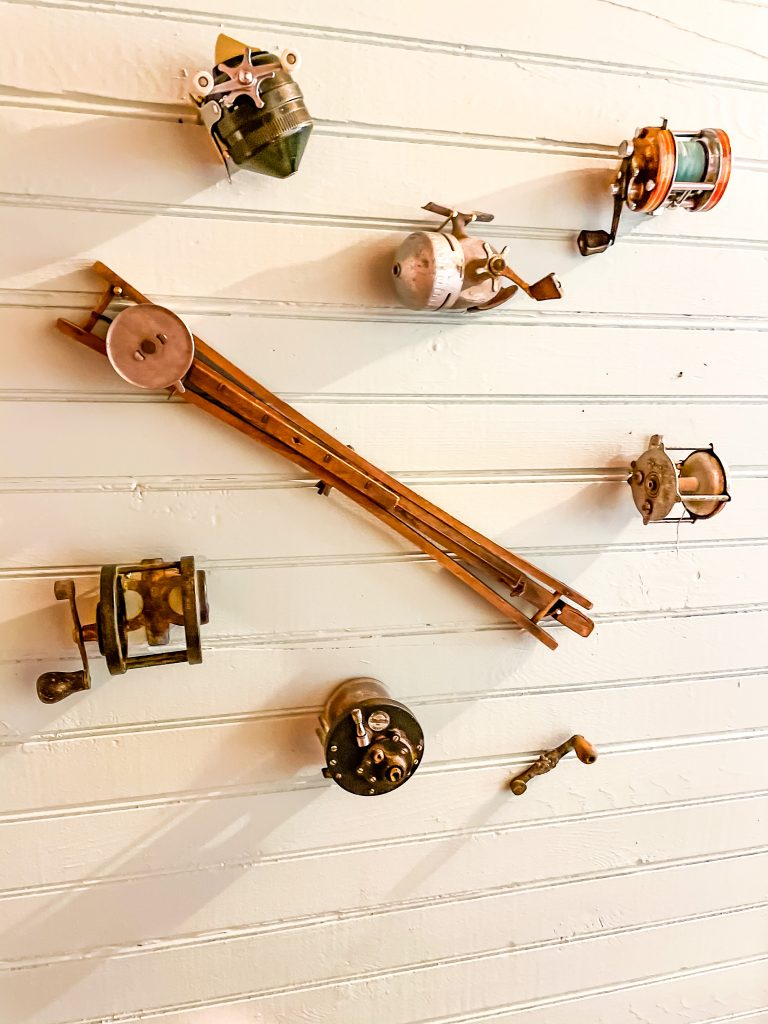 Every room has an overhead light and ceiling fan. But it is nice for guests to also include lamps for reading or accent lighting. We chose to use a vintage style nautical lantern on the dresser for decorative and utilitarian purposes. There is a bedside table on the right side of the bed that is too small for a lamp. So we added a natural jute wall sconce that also adds some coastal texture.
We had the walls painted in a soft blue that makes the headboard ceiling and hardwood floors pop.  I used crisp white linens as I do in every Airbnb.  Consistency with white makes it easier for the turnover team and laundry. And guests love it because they can see their bed is clean.
The duvet cover and pillow shams add another touch of coastal with its soft blue and cream stripes.  I love duvets as we can wash them after every guest checkout.  Pro Tip: Make sure you have 2 sets of all bedding to make turnovers more efficient. 
This is the design board for this bedroom: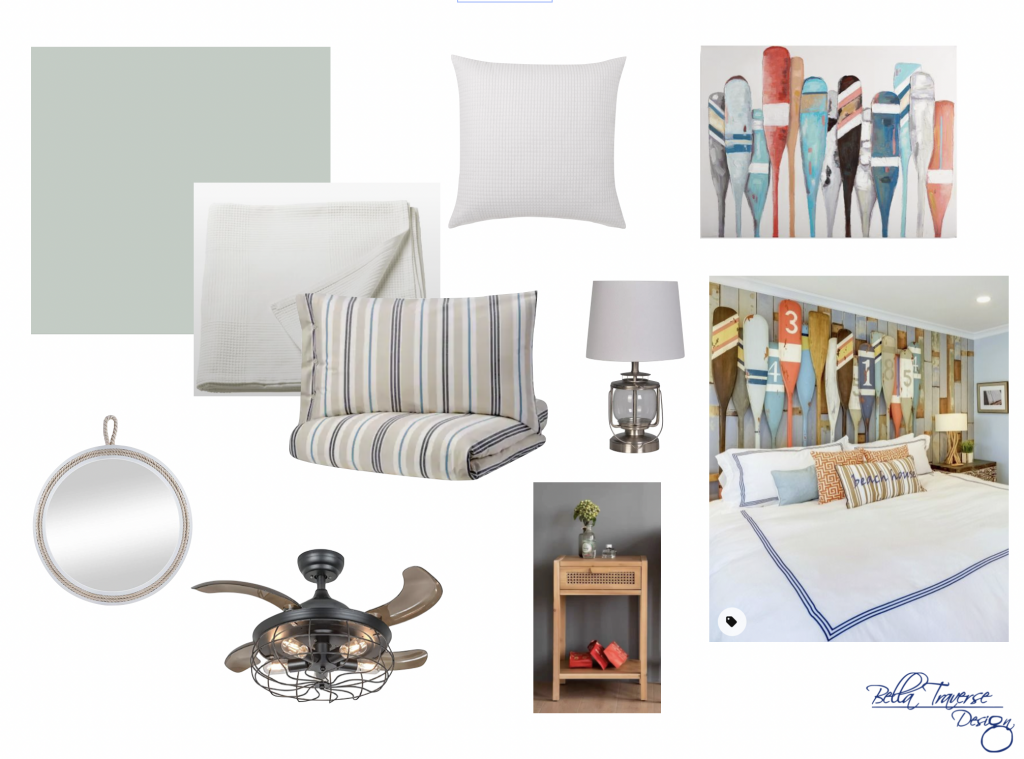 As you can see, most things are the same. But what happens with DIY or full service design, things can/will change. That may be because products are no longer available, something was too complicated or expensive to install, time constraints, something doesn't work with the current furniture (such as the oars above the headboard in the inspiration photo) or many many other reasons.
In the end the feeling is the same.