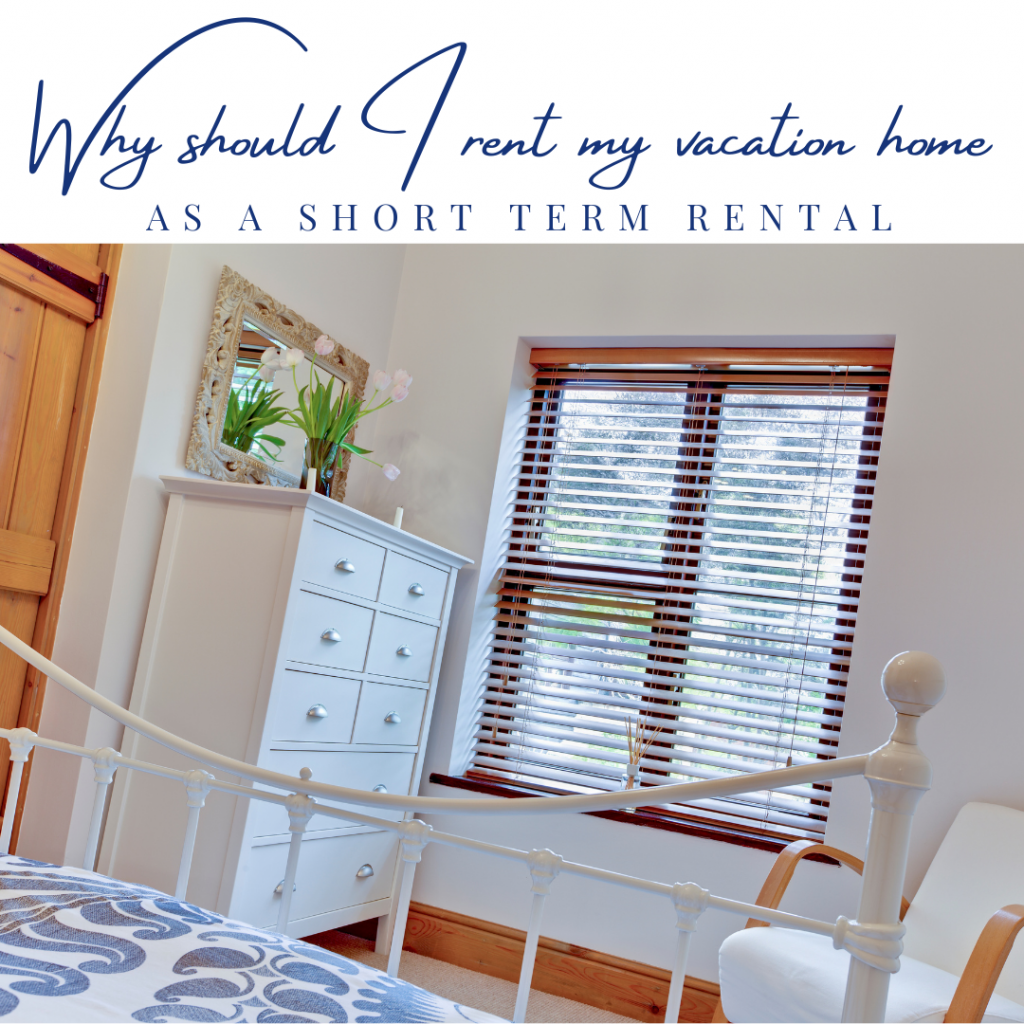 I had an interesting conversation with a colleague the other day. He has a family member with a house on a lake. He purchased it before the housing market exploded, so he got it for an affordable price. However shortly after purchasing, he was transferred out of state for work. He plans to retire in his lake house, but that is still several years away. So the house just sits there. My colleague thinks this is the perfect place for a short term rental. And he is correct! But how do you explain to someone else that they should rent out their home?
I've had similar conversations with others, and it made me realize there needs to be a way to "sell your idea" to other people. I have had several referrals from people that want their friend, colleague, family member to rent out their vacation (or extra) home when they are not using it. While I appreciate their referral and confidence in my co-hosting services, they never EVER call us. And in case you didn't know prior to reading this post, my company is a full service interior design firm. We primarily design for vacation homes and cottages, and we offer co-hosting services for short term rentals (Airbnb's) as well. So here are a couple of reasons why you or someone you know should rent out their property.
1). Extra income. Money is usually the primary motivation for renting out your space. In West Michigan, if you have an extra property located on or near Lake Michigan or an inland lake that is sitting empty, you can potentially earn $1,000-$5,000+ per week. PER WEEK, between Memorial Day and Labor Day. My colleague and I did the math, and if his family member only rented his house 8 weeks out of the summer (leaving 4 weeks for himself to use) he could potentially have his home paid off in 10 years. Just from the rental income! If you leave the house empty, you are literally leaving money on the table. Don't need the money? That's great! There are several charities that could use your help. You can help be the good in the world.
2). A vacant home deteriorates quicker than an inhabited home. Just like a car, if it sits unused, you will have more problems with it. The A/C needs to be ran. The plumbing needs to be used. It's like having a neighbor check on the house to make sure everything is ok, but you also get paid!
Sidenote: It also helps from potential theft. People notice when a house sits vacant. It always blows my mind when I drive down the main road in my town, and I can tell which houses are owned by snowbirds. (Snowbird means that the owners fly south for the winter) If you live in the south in the winter, PLEASE have your driveway plowed in the winter to make it look like someone is there. If I notice, I know the bad people notice too.
Other thoughts/questions you may have:
1) But what if I don't want people in my house using my stuff? If it makes you feel uncomfortable that someone else will be sleeping in your bed..I get it. But if you have ever stayed in a hotel, you are basically sharing a bed that thousands of other people have slept in. When the day comes that you are ready to live in your house full time, buy a new bed. With the money you make from renting it out, you can buy all new things :). As far as personal items, I always suggest they put anything they don't want used, broken, potentially stolen, in a locked area or removed before renting. If you don't want someone using your pillow and it's a pain to bring it every time you use your home, we can add a lockable hope chest into your master bedroom.
2) But what if I don't want strangers in my house?? There are ways to properly vet your renters. Through the Airbnb platform, you can confirm they are a "real person" before accepting their reservation. With all of my owners, I set up their profile so that the prospective guest has to provide a government ID, and profile photo. They also can't instant book without messaging me first. I ask them questions such as why they are traveling and who is coming with them. You can ask them as many questions as you feel necessary. Most people are excited to tell you about their trip. If not, that's a red flag and you can decline their reservation.
3) What happens in the off season? You can still rent your home in fall, winter and spring if you choose. There are people that need something called a mid term rental. This can be anywhere from one month to eight months. I've gotten requests from potential renters that are building a home and it won't be ready before they have to move out of their current home. Or they are moving to the area and they haven't found a home to purchase yet, or they aren't ready to commit to buying a house without getting a feel for the area first. Or they are a visiting professor and will only be here for one or two semesters.
4) But who is going to run this for me? There are several options out there. Just know what services you want/need before hiring.
Property Management Company-In Michigan, you have to be a real estate broker in order to manage a property. They can take care of anything you need done to the home. For instance if a pipe bursts, they can contract the plumber, pay them, and invoice you. As far as reservations, etc they all offer different services.
Full service co-host-Which is what my company is. We are guest management. This means we handle the reservation calendar, vet the guests, communicate with guests before, during and after their stay, write their reviews after checkout, hire and train the turnover staff, wash the laundry, refill stock of cleaning supplies and paper products, etc. We are the boots on the ground so to speak. We are here when you can't be. If problems do arise (such as a pipe bursts), we can let the plumber in, show them the issue, but they are contracted by you and you pay them directly. No money can cross hands from us. Same with lawn mowing companies, snow plow, etc.
Online co-hosting- all virtual
5) This all sounds great, but I don't know where to start!!! It all starts with a consultation. Via zoom or in person. First and foremost comes the design and set up. It is possible that your property is beautiful and ready to go, but you aren't sure what else is needed. Such as how many sets of towels, bed linens, rolls of toilet paper, etc. Or you need help with design but you already have someone to run it for you. We will evaluate your needs during your consultation. I didn't write this post to sell you on anything. It's just to get you thinking about the positives about renting. If you feel you would like to book a consultation with Jamie, you can do that here: Book Your Consultation
Happy Renting!!