The next room I'm looking at is my office. Which will probably be the first one to be redone because construction wise, its the easiest of my top 5 list. And the materials we need are considered "essential" for building so we will be able to get them from our local lumber yard.
Before our local home improvement stores closed their non-essential areas, I picked up a few flooring samples. In all reality I'd prefer to buy them at a smaller local store. However I don't know if/when they will allow us in to look at samples. There are two from the big box stores that my husband and I like, which we could order online. So I'll contact my local store this week to see what our options are.
When our home was built, I believe my office was intended to be a formal dining room. Which is a little weird because it's right off the eat in kitchen, which is already pretty large. And there is no ceiling light fixture. There's only one switch that is connected to an outlet to plug in a lamp. I find that very strange. It's also possible it was supposed to be a den. But I find that a little weird since it is adjacent to the living room.
Lets again start with the problems
1) It's wide open. The "doorway" is 118 1/2" wide. Even though 90% of the time it's only my husband and myself here, I feel like I'm in a fish bowl. When I'm on a conference call, I can't shut the door. I really want to shut the door!
2) As mentioned above the only lighting is by lamps. This is not conducive to working.
3) The flooring needs to be replaced. Right now its berber carpet. It's old and ugly. And if it was meant to be a dining room, why is there carpet????
4) This is another room with no storage. I have many many design books and magazines. And I am not willing to part with any of them, because you just never know when you need inspiration or a refresher. I still have my text books and homework assignments from design school!
5). The wall color is a light blue. It's a beautiful color. But I had it in my last house so I've grown tired of it. Also, it's been used in almost every room on the main floor.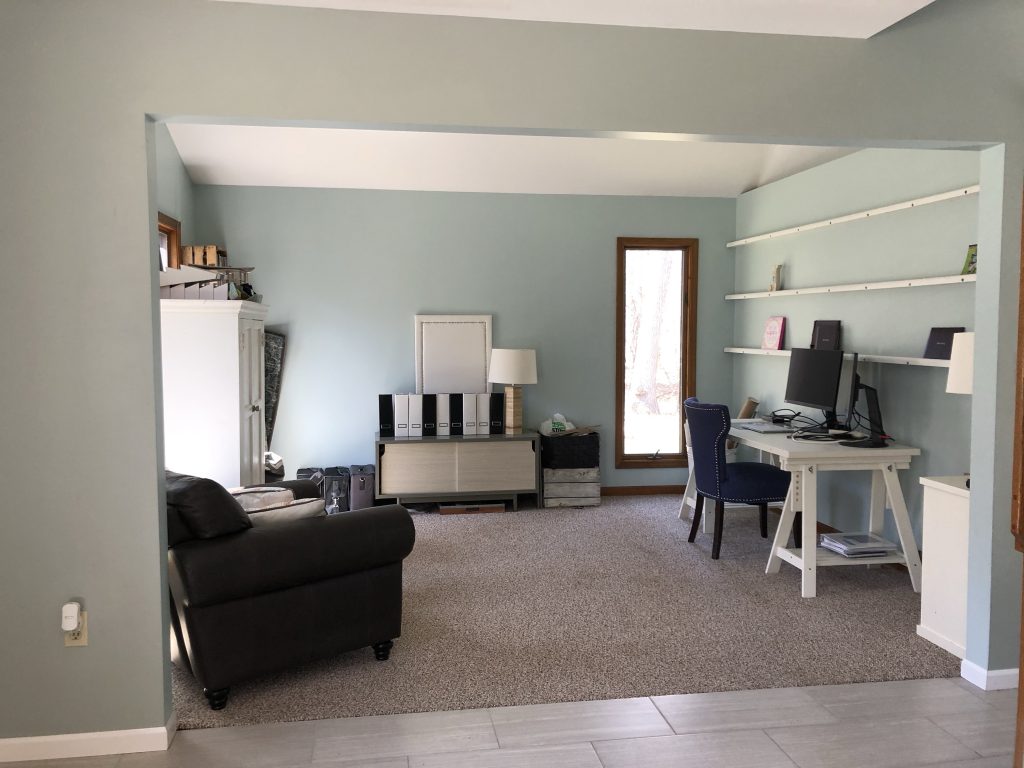 Positives:
There is a lot of natural light. Two of the windows (not shown in the photo) are south facing. Space wise it's a good size. There are also cathedral ceilings which makes it feel larger.
Good:
In this room, I definitely won't go with a good option. That would be just adding the cabinetry for storage and removing the weird picture shelves above my desk. Add some new paint on the walls and some artwork and more lamps.
Better:
1) We will be building a wall and installing a barn door. As much as I try to fight trends, it really is the best option. I thought about french doors. But they are a bit spendy and I don't want the door swings to take up valuable space. We are considering building the barn door ourselves as it is less expensive and I can chose a custom size and design.
2) For this one we may need to hire an electrician, depend on what I chose. I'd like to add a beam with a chandelier or two. If we decide to install can lights or anything else directly into the ceiling, we will need an electrician for sure. The township is closed down so we aren't able to get a permit. So this is something we would have to wait on.
3) More than likely we will be replacing the carpet with laminate. I definitely don't want carpet in my office, and I don't need something as durable as luxury vinyl tile. I considered hardwood however we have a new puppy and she will scratch them when she gets bigger.
4) In my last brick and mortar office I used kitchen cabinets with a custom stained butcher block countertop. I plan on reusing in my home office. They are white shaker door, which isn't my top choice, but I'd rather reuse something then add the expense to replace when they function just fine.
5) I haven't decided on a wall color yet. Or any other details for that matter.
Best:
I actually haven't thought about a best option! I'll have to get back with you on this one.