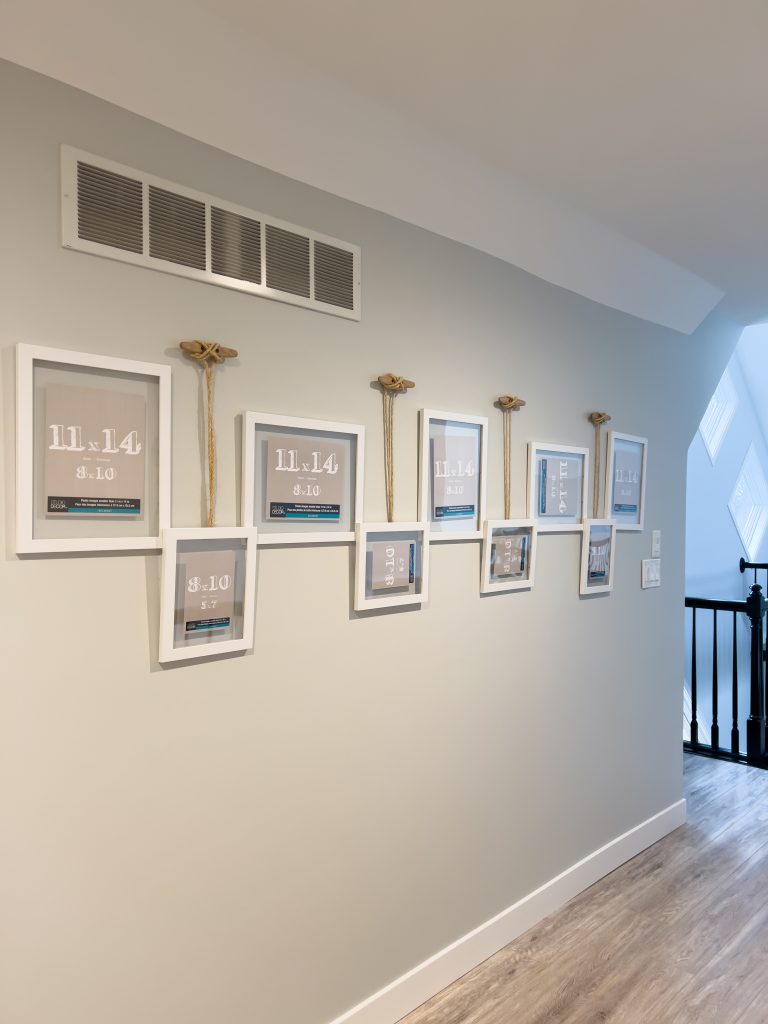 Are gallery walls still a thing? The answer is yes! This is a simple layout I created for my clients family photos. They are located in a busy hallway so we didn't want to use any shelving, for fear of them being knocked down. The home is also located on a lake so we tied in the coastal feel using wooden boat cleats and rope.
So how did we do it? It's a bit of a chicken and egg situation. Do you figure out what photos you want to use first? Or the layout? We tried photos first, but there were just too many great ones! So we focused on the layout. We did figure out that we wanted to use a combination of sizes and direction they were hung. The photo sizes to be used were 8×10, 10×8, 5×7 and 7×5, but the wall was too large for such small sizes. So I used these floating frames to visually take up more space, while allowing the wall color to show through.
The next dilemma was figuring out how to hang them so that the frames didn't move. I knew I wanted to use cleats and rope, but if I glued the rope to the back of the frame, they wouldn't stay straight. So I ended up first attaching the cleats to the wall. Then wrapping them with the rope. I put the nail in the wall where it needed to go, and then tied the ends of the rope around the nail. So they look like they are attached but they aren't!! This will also make it easier when photos are swapped out. Otherwise the whole rope would have to come off the cleat and then there would be no way to reattach the same way (so that they all hung evenly)next time.