In my last post I mentioned our house was move in ready. Thank goodness. But, almost every room is gray or blue. I'm so over gray and white. Don't get me wrong, it's beautiful. I'm just tired of it. To me it has no personality. I absolutely love the black and white look, however it's also becoming what everyone does, and I don't want to be like everyone else. And guess what…that's ok!! Everyone feels like they need to do what's trendy. Or what is considered "classic". If you don't like it, don't do it. Go with your gut. It's much more important to be true to yourself and your style, then to design a room based on what society says is the "in" thing.
There are a few spaces in our home that bother me the most. The master bath, the kitchen, my office, the foyer and the back yard. Let's call them my top 5. Rooms that need smaller updates are the living room, main bath, and guest room. I'm not sure if my husband wants anything changed in his office or if my step son wants anything done in his room. We also have a partially finished basement, which right now just houses my home staging furniture and accessories.
When you want to redo your entire house, but you know there are budget constraints, it's best to have a top 5 list. Even if it's one room it's a good idea to narrow down your top must have's. Maybe you have $5,000. You could get the biggest bang for your buck with new floors, paint, and probably one more thing. Or you could easily spend that on just a custom sofa, or a sofa and two occasional chairs. You just have to decide which do you really need right now, and which can you live without.
I'm going to start with my master bath. This room is going to be a great example of my good, better, best. When working with clients they naturally want to start with what they want the room to look like. So they begin talking about style. But long before we talk about what it's going to look like, we need to talk about how it functions. Function is where you need to start on any project. What is working and what isn't? Who uses this room and for what purpose?
Here are the problems and positives about my master bathroom
Problems:
1) too small
2) has access to kitchen so people think its a main bath
3) no linen storage
4) poor lighting
5) no ventilation fan
6) it's gray, black and white
Positives:
1) has been updated recently
2) the countertop is granite
3) at least we have a master bath
This room doesn't function well for us because of it's size, lack of storage and poor lighting.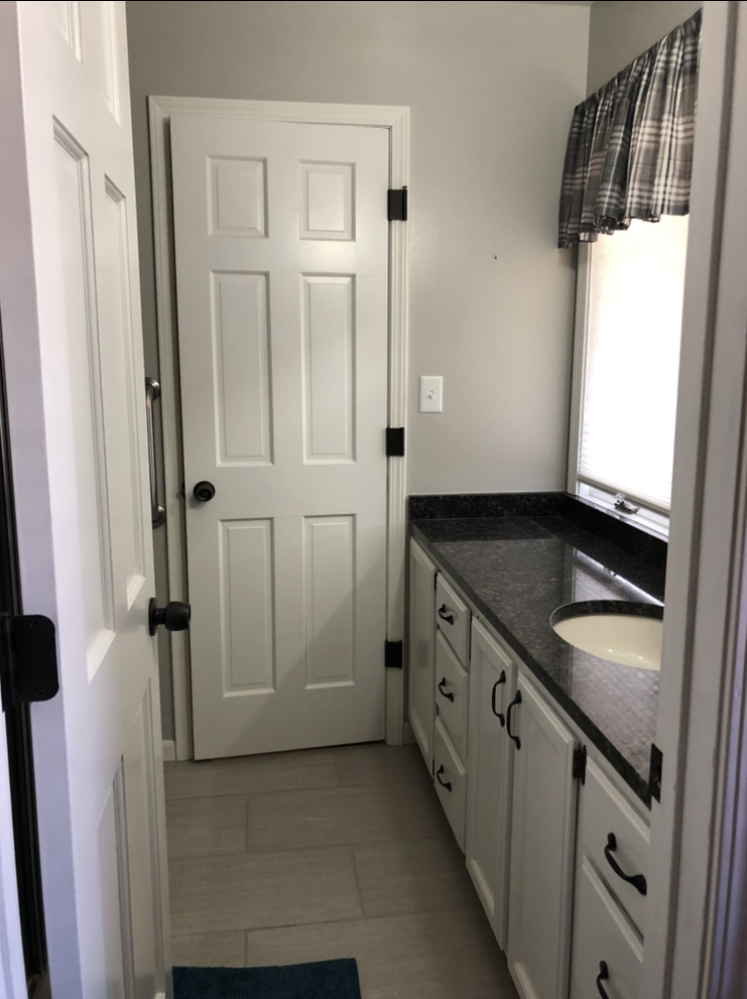 Now let's dig a little deeper into the problems:
1) It's too small. It's so small it is basically a hallway. There are two doors to enter and exit, and a tiny acrylic one piece shower.
2) One of the number one items on our list while house hunting, was a master bath. In past homes we either had one bathroom that everyone used. Or a main bath also had a door into the master bedroom, which again, everyone used. No more!
3) The vanity is a good size, so right now we have towels in one of the cabinets. But it only holds a few.
4) The lighting is updated, but they are sconces and there is only one on the wall adjacent to the mirror. The light bulbs are bright but because they are poorly placed, it is hard to put on makeup. There is a window but is frosted and has a honeycomb shade because it faces the street.
5) No fan is required by code because there is an operational window. But, because the room is so small, the steam has no where to go around the room and we live in Michigan so cracking the window isn't ideal 8 months out of the year.
6) The color scheme is nice and clean, just boring.
Now let's look at my good, better, best options.
Good:
There is an adjoining laundry room that could be relocated. Adjacent to that is a waste of space hallway with a coat closet. By just relocating the laundry room, we could put in a full size tile shower where the washer and dryer are currently and add a linen closet where the shower is now. The wall to the right of the vanity could be taken down to a pony wall, to allow a more open feeling. At this time we would update the lighting to use lighting over the vanity and install a fan.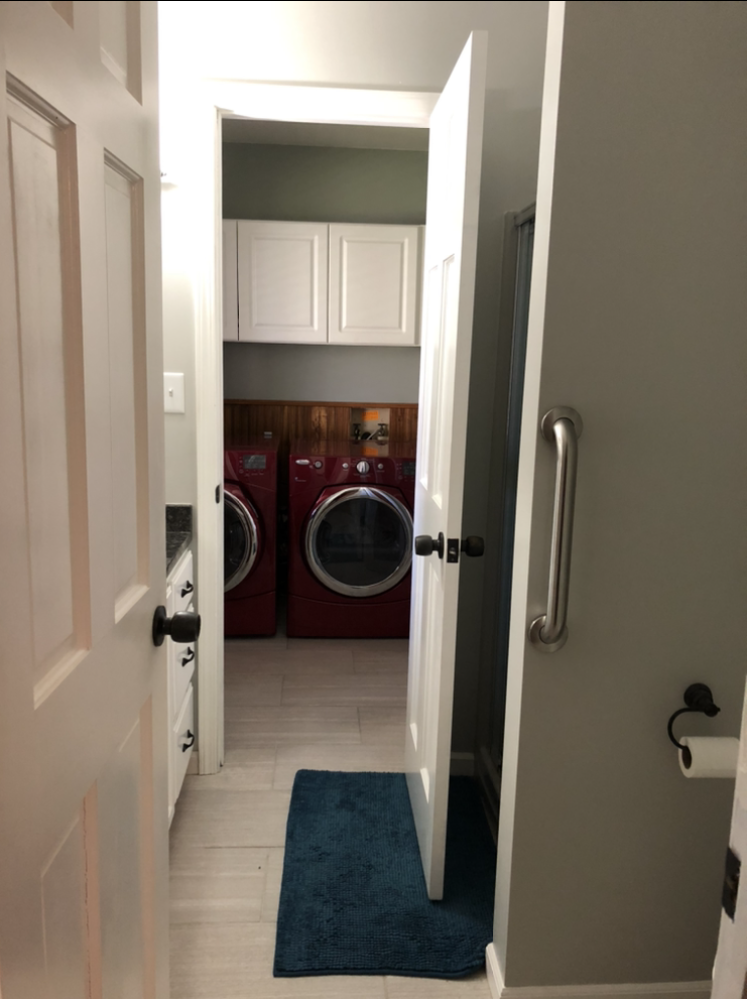 Better:
We could relocate the laundry room, and also take advantage of the current hallway and coat closet. My husband does not want to lose the closet as it is located just off the garage and kitchen. But is can be moved. By the way he is a contractor, so anything I dream up, he can make into reality! With the better option comes a lot of different layout idea. We would also like a pantry in the kitchen, so in one of my layouts we move our master closet as well.
Best:
Now we could go super crazy and totally gut the bathroom, laundry, hallway, coat closet and master closet and completely reconfigure it. That would be the best way, and definitely the most expensive.
I'm working on layouts for my better and best options.  I'll be posting them soon.